A place to slow down, unwind and feel good about life. Cool, exclusive and laid back lifestyle in an elegant setting with a modern mediterranean design theme.
The Resort features spacious De Luxe Rooms, Family Rooms and a Penthouse/Honeymoon Suite overlooking the blue ocean and Mae Phim Beach. Guests can enjoy a swim in the almost magic oversized swimming pool and spend a great time at the round-pool tables, in the sun chairs, at the bar or in the restaurants.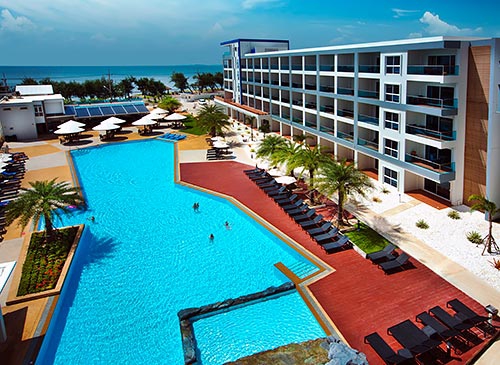 Comfortable rooms and an amazing swimmingpool
Spacious and comfortable rooms, with large balconies, all facing the large pool area. Our hotel philosophy sets a service that is genuinely friendly and attentive.
We offer a variety of services carefully planned for fun and relaxation in a concept for the whole family, from the fun childrens pool area to the evening chill out lounge. Hang out by the sea – Live the Grand Blue experience!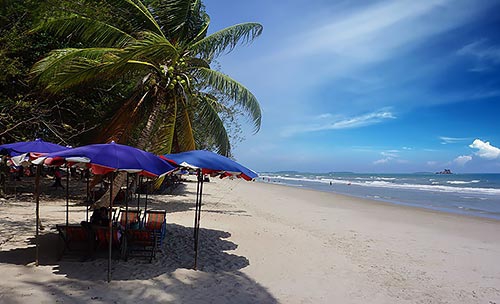 You've found it!
Located at the eastern coast of Thailand, just 180 kilometres from Bangkok, right at the popular Cape Mae Phim Beach and within easy and convenient reach to many major destinations.
Mae Phim Beach is best known for it's beautiful sea, white sand beaches and clear water with a view of many islands from the beach. There are many restaurants serving fresh delicious seafood and western delicacies.
Whether you are looking for a weekend getaway spot or a place to stay for extended periods of time, look no further.., you've found it!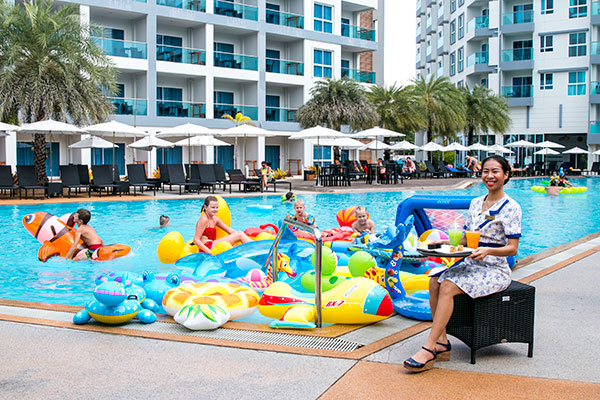 Family Fun
When you are looking for the best family resort at Mae Phim Beach, the choice is GrandBlue Resort & Beachclub. The kids love the large pool and the children's pool area with a sparkling waterfall. The many different sections make it possible for parents to enjoy and relax, and at the same time keep an eye on the kids.
Our Family 2 Bedroom unit is the preferred choice for families with smaller children, the kids love to have a room of their own. For the more grown up kids, there is the De Luxe Room with connection doors available.
Please visit 'Rooms and Suites'..